My Grand-dogger......Maddie :)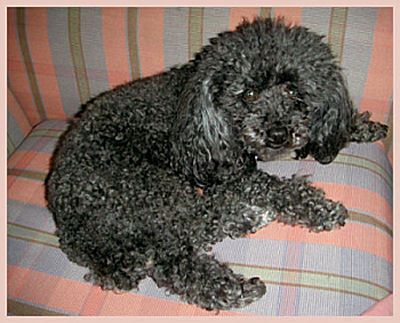 After I did my Thankful Thursday post, my daughter informed me that I had hurt my little Grand-dogger's feelings by not saying I was thankful for her. In fact, she told me that little Maddie was in the bedroom howling with sadness, howling louder than she did when she got her shots! :) So, I had her tell my little girl that I would do a post this week entitled "Just Maddie".....it's the least I can do, don't ya think?



For those of you who may not know......Maddie is my daughter Mandy's toy poodle, and they live in Celebration, FL, about five minutes from Orlando. She is five years old and just the sweetest thing ever. I am very thankful for Maddie, because she brings Mandy so much joy, and keeps her from being lonely. She is there waiting for her after a long day of dealing with thousands of tourists, and cuddles up close to her at night, keeping her company into her dreams.


She is very spoiled, not just by me & her Mommy, but by all of Mandy's friends, especially Josh, and Mandy's roommate, Casey.....everyone loves Maddie. She goes everywhere with them, even some places she is not allowed (shhhh). She's a tiny little thing....she just looks bigger in my pictures because she was way over due for her haircut, she only weighs 6 pounds, but she is all attitude :) She loves dingo bones, chicken jerky, and McDonald's fries.....and just about any other treat you have with you, also!!! LOL! She loves her Grandma too....she definitely remembered me me this trip, and I brought her a little pink hoodie sweatshirt, and some carob coated biscuits :)


She does two things that are just adorable, and crack both me and her Grandpa up. Our favorite is her ballet poses. After she does her business outside, she kicks her back legs like many dogs do, but she kicks one leg straight out.....holds it for about 5 seconds, then kicks the other leg out and does the same thing, back and forth for about 2 minutes. Kick, stretch, hold, and repeat! LOL! She also does this after she wakes from sleeping, she goes to stretch, but turns it into a work of art :) Our other favorite thing is when she tells Mandy she wants to go "bye-bye".....it is so adorable. Mandy will ask her if she wants to go, and of course she is all excited and runs over to Mandy. Then Mandy says to her "convince me"...."convince me"....."convince me"! Well, Maddie takes a couple of attitude steps backwards and starts "talking"....all kinds of growls, grumbles, and noises, "convincing" Mandy that she does, indeed, want to go bye-bye!!!! LOLOL!


So, that's my little Granddogger.....a sweet little baby for my baby to love. We are very thankful for you, too, Maddie....and I hope this makes up for Grandma slighting you the other day. I know all my blogger friends are going to think you are simply precious :)
Pooh Hugs, Maddie's Grandma :)