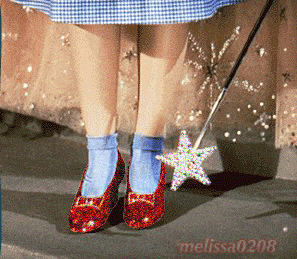 Tonight at 8:00, TNT is broadcasting one of my favorite movies of all time, the classic "Wizard of Oz". I love this movie for so many reasons, but mainly because it is full of life lessons. No matter how many times I've seen it, and even though we have it on DVD, I still get excited when I hear it's coming on TV, and will watch it beginning to end, in some ways like a child I suppose....hehe. So this entry is just a few things...."Oz" :)
My favorite exchange in the movie comes towards the end, when Dorothy is left wondering how she will ever get back to Kansas, when Glenda once again appears:
Dorothy:
Oh, will you help me? Can you help me?
Glinda:
You don't need to be helped any longer. You've always had the power to go back to Kansas.
Dorothy:
I have?
Scarecrow:
Then why didn't you tell her before?
Glinda:

Because she wouldn't have believed me. She had to learn it for herself.
Dorothy insightfully explains what she has learned from her experience - during her dream of being in Oz. In a self-revelation, she realizes that everything she could ever have wanted was right in her own backyard - IF she had wanted it hard enough. Glinda reveals the meaning of the ruby slippers and that they will carry her and Toto back:
Dorothy:

Well, I think that it, that it wasn't enough just to want to see Uncle Henry and Auntie Em, and it's that if I ever go looking for my heart's desire again, I won't look any further than my own backyard because, if it isn't there, I never really lost it to begin with. Is that right?
Glinda:

That's all it is!
Scarecrow:

But that's so easy! I should have thought of it for you -
Tin Man:

I should have felt it in my heart -
Glinda:

No, she had to find it out for herself. Now those magic slippers will take you home in two seconds!
How true is that? If we can't find a way to be happy within ourselves, to find a way to be happy right where we are now.....chances are we won't be happy wherever we think the answer lies.
My other favorite exchange is when the "Wizard" is giving the Tin Man his heart:
Wizard: "Therefore, in consideration of your kindness, I take pleasure at this time in presenting you with a small token of our esteem and affection. And remember, my sentimental friend, that a heart is not judged by how much you love, but by how much you are loved by others."
Another life lesson! Love isn't love until we give it away. Letting others benefit from our kindness will give us the self worth & acceptance we need to feel truly loved.
Of course, how wonderful is the music in this movie!!! I'm sure almost everyone can sing along with each one, and they just make us happy & joyful, don't they? My favorite, as is many others I'm sure, is the timeless classic "Somewhere Over The Rainbow". Did you know we almost never heard that wonderful song? It tested badly in preview screenings so it was cut out, then later reinserted after reflection by a new director brought in to finish the movie....good thinking!! So many people have recorded it over the years, way too many to even begin to mention. But I thought I'd end this entry with a few of my favorites, I was able to find all but one of them on You Tube. Many different versions....I hope you will enjoy listening to them.

The Original & Best.....Ms Judy Garland



Rufus Wainwright



Israel Kamakawiwo'ole



Eric Clapton



Connie Talbot



Beyonce



Ray Charles


Placido Domingo



Willie Nelson




If you watch the movie tonight....enjoy, and know you have a friend in Michigan watching along with you :)


Pooh Hugs, Linda