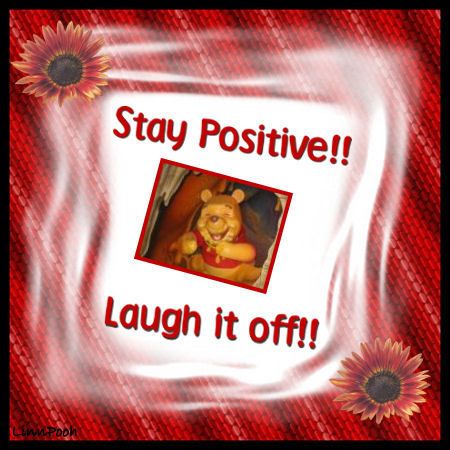 Looking at everything through positive eyes is hard to do all the time, I'll admit....I can whine with the best of them and throw personal pity parties that rock! I haven't had the best attitude the past couple of weeks about a lot of things, and I want to do better, I really do want to be a better person than that.
There are simple things that happen everyday that should make me smile and appreciate my life more, but I'm usually so busy being stressed about maybe not getting back into our house in Jan, that I miss many of them. So today, I made an effort to smile at the good things right in front of me, the little joys in life I take for granted ......and here are just some of my observations:
God let me wake up today, and I thanked Him for it.....even if it was a bit early ;)
Abby had so much fun tearing up the Kleenex she pilfered from the bathroom waste basket, I really just had to laugh instead of scold her, she is such a little scamp!
As my Mom & Dad (married 60 years) sat on the couch today.....they were holding hands just kind of randomly, not even aware they were doing it. They are still so much in love :)
Comcast Cable does service calls on Saturday.....and at no extra charge, how bout that!
Gas was $3.29 today.... WOW! Did you ever think you'd cheer when gas was that price? LOL!
Biting into a crisp apple is a great sound, and I'm usually so into eating it that I don't pay attention to the "snap".
Last night, my daughter reminded me that she does not bend with the wind, and even though that may mean different views than I have.....it's one of the things about her that I love, and it makes me proud to be her Mom. Thank you Mandy, for being fiesty with me when I need it :)

Marv intensely "interacting" with the TV while watching Michigan football made me laugh this afternoon....his Alma Mater brings out his drama & debating skills ;)
For all my complaining this week, Blogger really does have some great features...and so many of my friends are still with me!
Scotty leaves for Disney World today and I'm not even jealous....okay, maybe a little, but in a very positive way (HeeHee)
Fred Goldman got a good night's sleep for the first time in 13 years..... justice is the best revenge!
Yeah, that last one is still making me smile, in fact, that one alone may fuel smiles all week:)

Okay, they say if you do something for two weeks, it will become a habit, so.....I'm going to give it a try. I'm going to make a list every day, noting the little things that made me smile, so it helps keep them in my mind and balance out the times where things don't go my way. I'll report back in two weeks with results if I think I've had an over all better out look.
Have a great and positive Sunday.